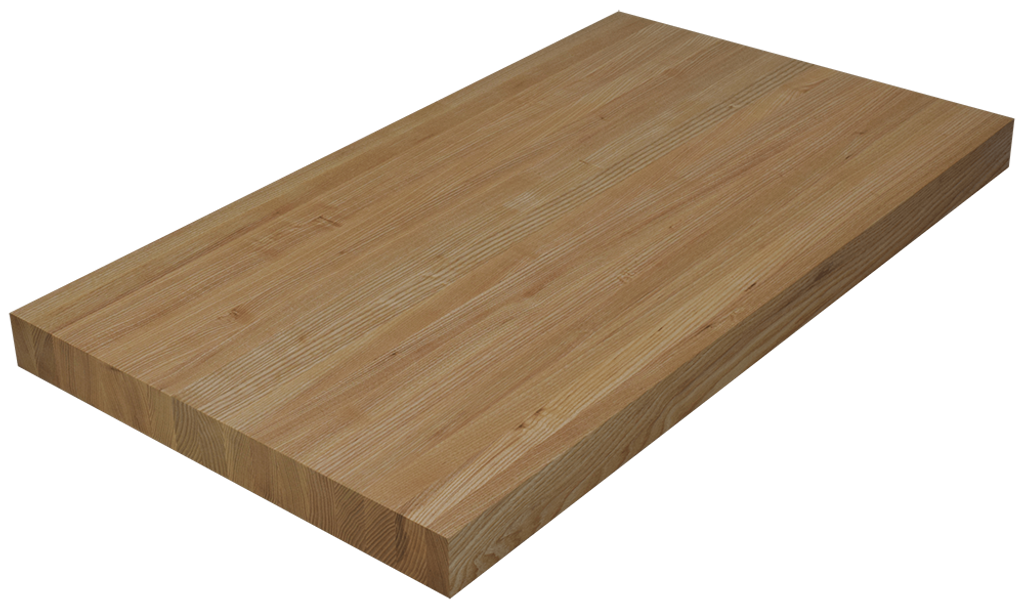 Ash Edge Grain Butcher Block Countertop
Ash is a lighter wood that varies from light brown to pale yellow to nearly white. It will add an airy, light atmosphere to your kitchen. Our Ash Butcher Block Countertop brings the natural warmth and beauty of wood into your home.
Edge grain butcher block countertops are made with 1" wide edge grain strips. Solid wood strips go the full length of our butcher block countertops giving them a better appearance and more durability than blended butcher blocks where short strips are joined together. Butcher block countertops are also great for island tops, tabletops, or bar tops.
Please Note: Because each piece of wood has its own unique character, grain and color will vary from the sample images shown. All orders revised or cancelled after going into production (within 24 hours after order is received) will have a restocking fee of up to 50%.
Warranty Information: Please carefully read all warranty information, including installation instructions and timeframe.
Ash Countertop Options
Each Ash countertop is custom made by our craftsmen. You have control over many aspects of the look of your butcher block.
Size
We can make Ash Edge Grain Butcher Block Countertops with a thickness up to up to 4-1/2 inches, a width up to 84", and a length up to 138".
Finish
Add a finish of your choice to protect the wood and enhance its appearance. You can also choose to stain your counter. We offer stain match services for your convenience.
Our Countertops are made with a good top surface and four good sides. This means the bottom surface might have imperfections. Selecting the High-Grade Bottom Surface option allows you to have the bottom surface be the same grade as the top surface and four sides.
Edge Detail and Texture
Edge details and texture greatly enhance the look of the wood. Choose from a variety of options to add more character to your countertop. If you prefer to have your countertop sanded smooth and have no texture, be sure to select NONE in the Texture Options.
The Wire Brushed Texture works best on wood with an open grain, such as Ash. On other tighter grain wood species, the Wire Brushed Texture will not have the same effect and will not be as visible.
Cuts and Prepping
Installing a countertop can be difficult. We make it easier by offering custom CNC cuts, angle cuts, and joint prepping.
Most of our woodworkers are craftsmen from the local Amish community, providing great attention to quality and detail throughout the manufacturing process.
Shipping Information
All wood countertops are custom made to order. Shipping may vary depending on your customization options. Please provide for a standard lead of 1 to 2 weeks for processing, milling, and shipping of countertop orders.
Original price
$268.73
-
Original price
$716.67