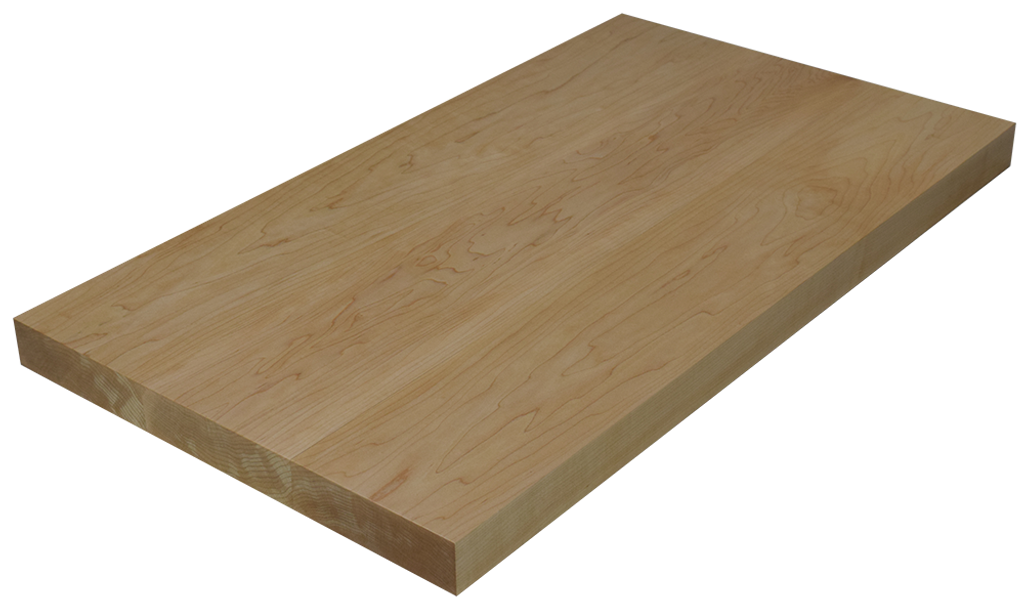 Hard Maple Wide Plank (Face Grain) Countertop
Maple Wide Plank Butcher Block Countertop Details
Hard Maple varies in color from creamy white to reddish brown. This extremely durable hardwood resists wear and will stand up to years of use.
Our wide plank countertops are made using random width planks that run the full length of the counter. Wide plank countertops do not have any butt joints or finger joints. These countertops are made with the board face turned up (flat grain).
Please Note: Because each piece of wood has its own unique character, grain and color will vary from the sample images shown. All wood countertops are custom made to order. All orders revised or cancelled after going into production (within 24 hours after order is received) will have a restocking fee of up to 50%.
Warranty Information: Please carefully read all warranty information, including installation instructions and timeframe.
Maple Countertop Options
All of our Maple wood countertops and wood table tops are custom-made to your specifications at our manufacturing facility in Ohio.
Sizing
We can make custom maple wide plank countertops up to 1-3/4" thick, 84" wide, and 162" long.
Finish
We can finish your countertop for you with a variety of materials such as poured epoxy, acrylic polyurethane, or mineral oil. Ask about our stain match services if you would like your counter to match other pieces in your home.
Edge Detail and Texture
Edge details and texture add more depth to a piece of wood. Choose from a variety of attractive options. If you prefer to have your countertop sanded smooth and have no texture, be sure to select NONE in the Texture Options.
Wire Brushed texture works best on wood with an open grain. On other tighter grain wood species, like Maple, the Wire Brushed Texture will not have the same effect and will not be as visible.
Cuts and Prepping
We can make it easier to install your Maple countertop by adding custom CNC cuts and joint prepping. Specify the cuts and prepping you need when placing your order.
Shipping Information
All wood countertops are custom made to order. Shipping may vary depending on your customization options. Please provide for a standard lead of 1 to 2 weeks for processing, milling, and shipping of countertop orders.
Original price
$81.56
-
Original price
$81.56