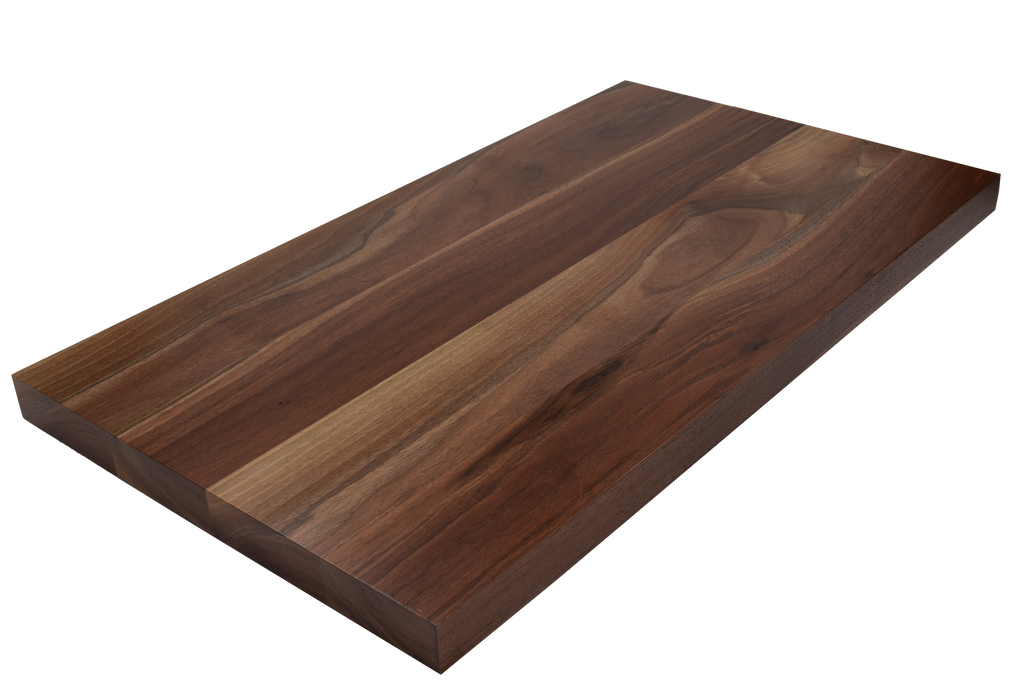 Walnut Wide Plank (Face Grain) Countertop
Walnut Wide Plank Countertop Details
Our wide plank walnut countertops add a warm, rustic feel to your home. With a beautiful dark color, our walnut matches a variety of home decor styles. Custom wide plank countertops are made with board face turned up (flat grain). The random width planks run the full length of the countertop. Our wide plank counters do not have any butt joints or finger joints.
Most of our woodworkers are craftsmen from the local Amish community, providing great attention to quality and detail at every step of the manufacturing process. Wood countertops will add warmth to any kitchen or dining room not achievable with other countertop materials.
Please Note: Because each piece of wood has its own unique character, grain and color will vary from the sample images shown. All wood countertops are custom made to order. All orders revised or cancelled after going into production (within 24 hours after order is received) will have a restocking fee of up to 50%.
Warranty Information: Please carefully read all warranty information, including installation instructions and timeframe.
About Our Walnut
Walnut countertops contain a fine mixture of less than 40% Sap Wood and greater than 60% Heart Wood. This makes the pieces look vibrant and colorful while maintaining the rigidity necessary for a countertop. All our true Walnut pieces are sourced and maintained from true undisturbed Black Walnut. These pieces are incredibly natural and as close as you can get to 100% natural Walnut. These pieces' color is a dark, natural and beautiful Walnut. If you're looking for a natural and beautiful dark countertop, True Walnut is the only choice.
Walnut Countertop Options
Customize your walnut wide plank countertops with a variety of options.
Sizing
We can make custom Walnut wide plank countertops up to 1-3/4" thick, 84'' depth, and 138" long. Choose from our standard size options or submit a custom countertop quote request.
Finish
Choose a finish for your countertop and add a stain if desired. We offer various finishes, including food safe options.
Edge Detail and Texture
To enhance the look of your countertop, consider choosing an edge detail for the corners of the counter. You can also select a texture to give the wood more character. Make sure you check out the large selection of edge details and textures we can apply to your wood countertops! If you prefer to have your countertop sanded smooth and have no texture, be sure to select NONE in the Texture Options.
Wire Brushed texture works best on wood with an open grain, such as Walnut. On other tighter grain wood species the Wire Brushed Texture will not have the same effect and will not be as visible.
Available Cuts and Countertop Prepping
We can add various cuts and joint prepping to make it easier to install your countertops. For example, we can include a cutout for a stove or sink.
Shipping Information
All wood countertops are custom made to order. Shipping may vary depending on your customization options. Please provide for a standard lead of 1 to 2 weeks for processing, milling, and shipping of countertop orders.
Original price
$126.70
-
Original price
$126.70