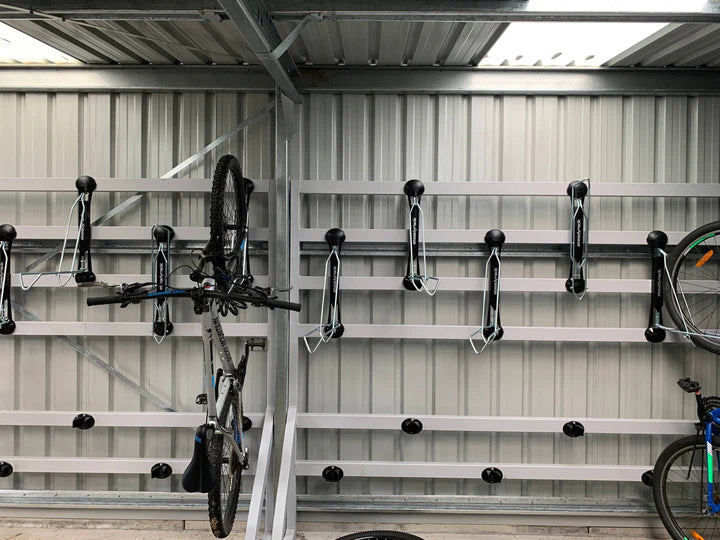 Not sure which bike rack to choose for your bike?
With many different bicycle racks for sale, where to start? Are you looking for a universal bike rack or perhaps the exact bike rack for your type of bike? When choosing a bike rack, it's ideal to match your rack to your bike. When deciding between our different types of bike racks, it comes down to a few small things - tire width, wheel diameter and fenders (mudguards).
Follow the steps below to work out which of our Steadyrack bicycle hanging racks is right for your bike.
Step 1
Tire and wheel size
Wheel size is the diameter of your wheel from edge to edge (A).
Tire width is the width of the tire on the wheel (B).
It's the combination of these two numbers that determine which type of bike rack to choose.
Similar to car tires, all bike tires have markings on them. These will almost always give you the tire width and the wheel diameter you need to match them to the correct Steadyrack cycle rack.
If you can't find the markings on your tire you can simply use a tape measure to get measurements A and B.
Match your tire markings or measurements to our bike rack types above, under the 'bike specs' section. Combine this with the below steps to find the best Steadyrack to suit your bike.
Step 2
Narrow space between the downtube and wheel
For the most appropriate type of bike rack for bikes with tight tolerance between the downtube and tire, use our Steadyrack Fender Rack.
These include bikes such as time trial bikes, aero bikes, and some newer road bike designs such as Specialized S Works.
If your bike has less than 15mm or 1/2" gap it may be better suited to our Fender Rack.
Step 3
Does your bike have fixed fenders or mudguards attached to the front forks?
The Steadyrack Fender Rack and eBike Rack are the only type of vertical bike racks that you can roll your bike in and out of if it has permanent fixed fenders or mudguards.
If your bike has fenders or mudguards, you will still need to match the tire and wheel size to our Fender Rack or eBike Rack specs to ensure it will fit - see step 1 above. You will also need to confirm the space between your fender stays and wheels is suitable - see step 4 below.
MTB fenders - Please note many mountain bikes with small fenders or mudguards will not require the Fender Rack or eBike Rack - being much smaller they will not interfere with the function of our Classic Bike Rack or Mountain Bike Rack
Step 4
Fender 'stay arms' with tight tolerance
Also known as fender arms, U Stays, mudguard holder or fender brace - some bikes with fenders or mudguards which fit tightly to the wheel/tire will not fit our racks.
The Steadyrack Fender Rack works by sliding between the fender/mudguard and tire when rolling the bike onto the rack. Before you purchase, take a moment to make sure your bike will fit safely and securely.
If the stays on your bike are very close to the tire or rigid with no flexibility, there may not be room to fit the rack arms in between and you will not be able to mount the bike into this type of bike rack.
We recommend a minimum 20mm or 3/4 inch clearance between the tire and stays to enable the bike rack to flex and fit between.
Need help choosing the right Steadyrack bike rack for your bike?
As there are many different types of bikes available on the market, it can be difficult to select which bike rack is suitable for your bike. Whether you've got a bike with fat or small tires, our Steadyrack bike racks are ideal for a wide range of bike brands and styles. If you need any more help choosing the right Steadyrack, don't hesitate to contact our support team.