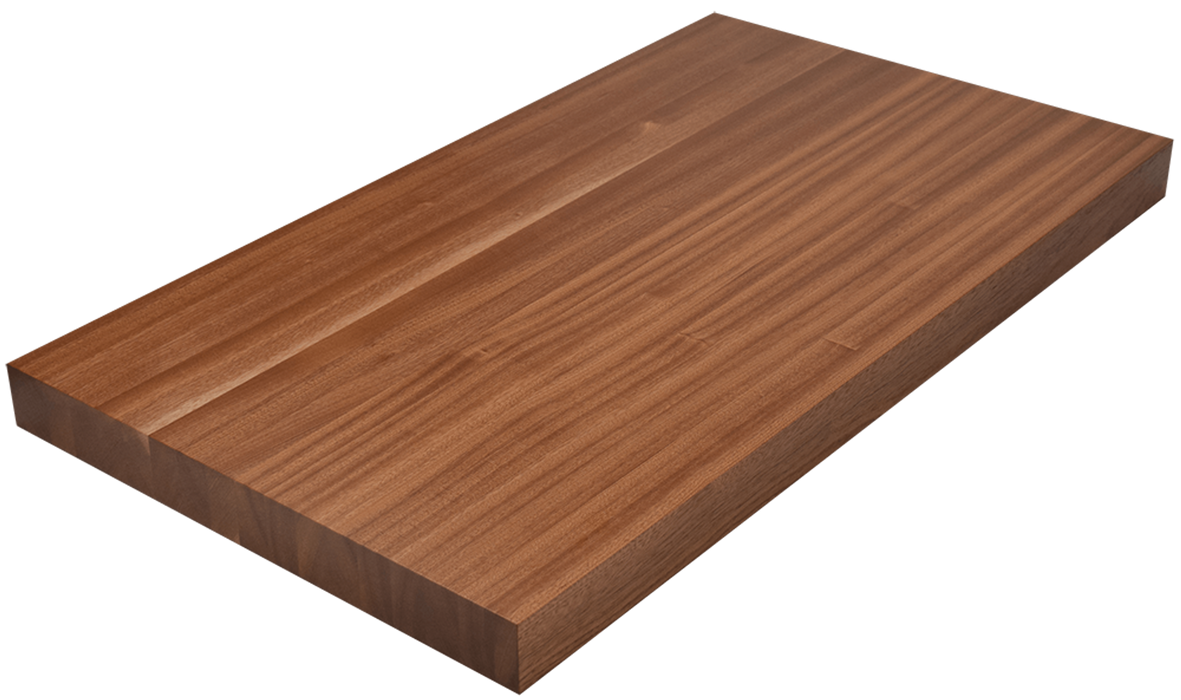 Sapele Edge Grain Butcher Block Countertop
Sapele Edge Grain Countertop Details 
Sapele is typically a reddish-brown wood that ranges from medium to fairly dark reddish-brown, to purplish-brown. In many ways, Sapele is very similar to Mahogany, but it is more durable than true Mahoganies. The strength of Sapele is comparable to that of Oak.
Our edge grain butcher blocks are made with 1" wide edge grain strips that go the full length of the countertop, making them very durable. Butcher block and wood countertops are a great choice for kitchens or any other room if you like the look of natural warmth.
Please Note: Because each piece of wood has its own unique character, grain and color will vary from the sample images shown. All wood countertops are custom made to order. All orders revised or cancelled after going into production (within 24 hours after order is received) will have a restocking fee of up to 50%.
Warranty Information: Please carefully read all warranty information, including installation instructions and timeframe.
Sapele Butcher Block Countertop Options
We offer various customization options to help you create your ideal countertop. First, choose a size for your butcher block. Then add other details like a finish, texture, and custom CNC cuts.
Sizing
We can make Sapele edge grain butcher block countertops up to 4-1/2" thick, 84" wide and 186" long. Put your needed dimensions into the corresponding boxes above.
Finish
For best results, wooden countertops should be finished. We can finish your butcher block for you and offer various food-safe materials like Mineral Oil and Fractionated Coconut Oil. If you choose to finish your countertop yourself, be sure to follow all directions in the Countertop Finishing and Installation Guide.
Our Countertops are made with a good top surface and four good sides. This means the bottom surface might have imperfections. Selecting the High-Grade Bottom Surface option allows you to have the bottom surface be the same grade as the top surface and four sides.
Edge Details and Texture
Edge details can enhance the appearance of your Sapele countertop. Choose a polished look such as classic or ogee, or make it more rustic with a faux live edge. View all edge detail options and choose the one that's right for you.
We also offer various texture options to enhance the look of the wood. If you prefer to have your countertop sanded smooth and have no texture, be sure to select NONE in the Texture Options. 
Wire Brushed texture works best on wood with an open grain. For tighter grain woods, like Sapele, the Wire Brushed Texture will not have the same effect and will not be as visible.
Cuts and Countertop Prepping
We make countertop installation easier with custom cuts and prepping. Specify the angle cut, prepping, and/or custom CNC cut you want. Please be prepared to upload a drawing of any custom designs.
Shipping Information
All wood countertops are custom made to order. Shipping may vary depending on your customization options. Please provide for a standard lead of 1 to 2 weeks for processing, milling, and shipping of countertop orders.
Original price
$347.17
-
Original price
$926.46